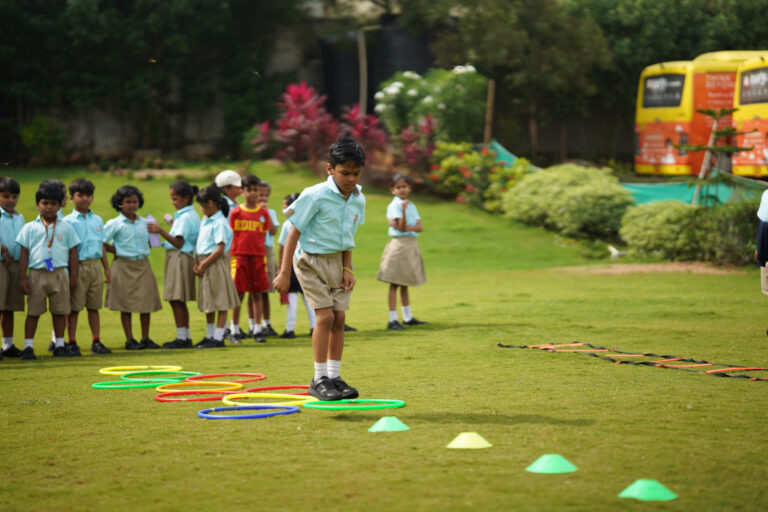 Primary School Program (I to V)
The Primary School Program by Edify Schools is for age group of students between 5-11 years. This is the age for building strong academic foundation for the students. Hence the program aims to develop in the students a reflective thinking approach that would help them identify and come up with solutions for real world problems. This is done through integrated thinking which is made possible through the trans-disciplinary learning approach. The overall learning process is spread across our trans-disciplinary 3C curriculum which has an inquiry approach to build the competency and character of the learners. The characteristics of 21st century learners are found within the character and competency profiles. The 3C Curriculum extends over six inquiry modules wherein students' participation in their own learning advances in a progressive manner. In this process, the students learn to master subject specific skills. In languages they develop receptive skills (listening and reading) and productive skills (speaking and writing). In this way they can comprehend, draw inferences from, relate to texts, read critically and use language creatively and imaginatively in day to day transactions and performances. Edify believes in developing cross cultural understanding and therefore students are sensitized to appreciate similarities and differences across languages and cultures. In Mathematics, at the end of the program students are able to –
• develop an understanding of numeration system
• perform computations related to day to day activities
• learn vocabulary in relation to spatial orientation
• develop connection between logical function and day to day life
• collect, represent and interpret simple data
• identify and extend simple patterns, etc.
In Inquiry Modules, focus is on developing the following in a student through the direct involvement and participation in the content –

• Observation and Reporting
• Discussion
• Expression
• Explanation
• Classification
• Questioning
• Analysis
• Experimentation
• Concern for justice and equality
• Cooperation.
All the learning engagements planned in a class strive to create age specific development milestones such as fine motor skills, independent work skills, writing skills, decision making skills, social engagement skills, cooperation skills, communication skills and all other skills that strengthen the core foundation knowledge in any student.