Choosing the right education board for your child is a pivotal decision that can significantly impact their learning journey. The Central Board of Secondary Education (CBSE) is one of the most popular and trusted educational boards in India. When seeking the best CBSE school in Attapur, Edify World School emerges as a top choice. In this comprehensive article, we will explore the numerous advantages of CBSE education and why Edify World School Attapur is the best CBSE school in the region.
1. High Academic Standards:
CBSE is renowned for its rigorous academic standards. The curriculum is designed to provide a well-rounded education that goes beyond textbooks, focusing on practical knowledge and critical thinking skills. Edify World School Attapur upholds these standards, ensuring that students receive a holistic and challenging education.
2. Nationally Recognized Board:
CBSE is a nationally recognized board, making it easier for students to transition between schools, cities, or states without facing major curriculum differences. This flexibility is particularly advantageous for families that may relocate.
3. Emphasis on Continuous and Comprehensive Evaluation (CCE):
CBSE follows the Continuous and Comprehensive Evaluation system, which assesses students' performance throughout the academic year, reducing the pressure of a single final exam. Edify World School Attapur aligns with this approach, promoting a stress-free and holistic evaluation system.
4. Broad and Well-Structured Curriculum:
CBSE offers a broad and structured curriculum that covers a wide range of subjects and topics. This ensures that students receive a well-rounded education and have the flexibility to choose subjects that align with their interests and career goals.
5. Focus on Application-Based Learning:
CBSE encourages application-based learning, emphasizing practical knowledge and problem-solving skills. Edify World School Attapur incorporates this approach into its teaching methods, ensuring that students are well-prepared for real-world challenges.
6. Well-Defined Syllabus:
CBSE provides a well-defined syllabus that serves as a roadmap for both students and teachers. This clarity helps students understand what is expected of them and allows teachers to plan their lessons effectively.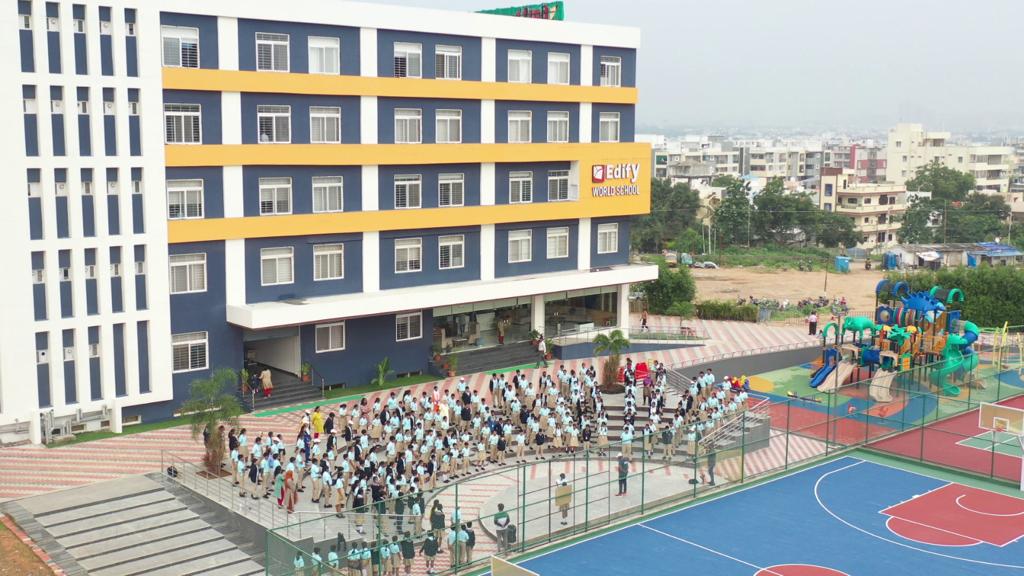 7. Preparation for Competitive Exams:
CBSE's curriculum is structured to prepare students for various competitive exams, including those for medical and engineering entrance. This advantage is crucial for students who aspire to pursue careers in these fields.
8. Extensive Study Material:
CBSE provides a wealth of study material, including textbooks, sample papers, and online resources. Edify World School Attapur supplements this material with additional resources to enhance students' learning experience.
9. Language Options:
CBSE offers a wide range of language options, allowing students to study in their preferred language. This inclusivity is essential in a diverse country like India. Edify World School Attapur ensures that language options are available to cater to the linguistic diversity of its students.
10. Modern Pedagogical Approaches:
CBSE keeps pace with modern educational pedagogy and incorporates innovative teaching methods. Edify World School Attapur leverages these approaches to create engaging and interactive learning experiences.
11. Global Recognition:
CBSE is globally recognized, making it easier for students to pursue higher education abroad. Edify World School Attapur prepares students for international opportunities by aligning its curriculum with global standards.
12. Teacher Training and Professional Development:
CBSE places a strong emphasis on teacher training and professional development. This ensures that educators are well-equipped to deliver high-quality education. Edify World School Attapur invests in its faculty's training and development to maintain the highest teaching standards.
13. A Holistic Approach:
CBSE promotes a holistic approach to education, emphasizing not only academic excellence but also character development and extracurricular activities. Edify World School Attapur shares this commitment to nurturing well-rounded individuals.
14. Safe and Nurturing Environment:
Edify World School Attapur prioritizes the safety and well-being of its students. The school creates a secure and nurturing environment where students can learn and grow without concerns for their safety.
15. College and Career Readiness:
CBSE's curriculum is designed to prepare students for higher education and future careers. Edify World School Attapur offers guidance and counseling services to help students make informed choices about their academic and career paths.
16. Parental Involvement:
Edify World School Attapur values parental involvement in a child's education. The school maintains open communication channels and encourages parents to actively participate in their child's educational journey.
17. Continuous Improvement:
CBSE regularly updates its curriculum and evaluation methods to stay current with evolving educational trends. Edify World School Attapur embraces this spirit of continuous improvement to provide the best possible education to its students.
Admissions at Edify World School Attapur:
For parents seeking admission to the best CBSE school in Attapur, Edify World School offers a transparent and straightforward admission process. To secure a seat for your child and experience the advantages of CBSE education, visit our school admissions page https://edifyworldschoolattapur.com/admissions/ for detailed information.
In conclusion, the advantages of CBSE education are numerous and well-documented, and Edify World School Attapur stands as a shining example of a school that leverages these benefits to provide the best possible education to its students. By choosing Edify World School Attapur, parents can be confident that they are giving their children a solid foundation for a successful future.